CAMEA Outstanding AME Award
Do you know someone that should be thanked?  Do you know an Outstanding AME?  Nominate someone today!  Click Here
2018 Winner – William Grassick
Bill Grassick started his career in aviation by taking aircraft maintenance at the Southern Albert Institute of Technology (1959-1961).
For twelve years he worked doing sheet metal, starting with Field Aviation in Calgary (1961), Bristol Aerospace in Winnipeg (1963-1966), Trans Canada Airlines (1966-1969), CAE (1969-1971), and finally Saunders Aircraft in Gimli (1972-1975). When working at Saunders Aircraft Bill was instrumental in setting up the sheet metal training center and worked as a sheet metal instructors training employees for work at Saunders Aircraft.
On leaving Saunders Aircraft, he wrote and passed the AME licence exams before going to work for Perimeter Aviation as Chief Engineer (1975-1979)
After leaving Perimeter he went to work for Air Canada, doing overhauls on the air force Boeing 707 fleet. In 1981 Bill was promoted to heavy maintenance supervisor with a crew of fifty to eighty personnel working on Boeing 727, Douglas DC-8, DC-9 and L1011 aircraft.  At its peak, the Air Canada overhaul facility employed 56 sheet metal personnel that had been trained at Saunders Aircraft.
At that time, Air Canada encouraged the employees to suggest improvements or changes that would save the company money. Bill earned several thousand dollars through the suggestion program saving Air Canada the equivalent of his wages each year.
In 1984, when working at Air Canada Bill became very allergic to a component in polyester paint and was off work for two years.  Being unable to work at Air Canada because of the paint dust in the hangar Bill went back to Perimeter Aviation as Quality Assurance Manager (1986-1998).
In 1998 Bill left Perimeter and started his own incorporated business as an aviation consultant, which Bill continues to do to the present time. His consulting has also included being an Instructor for various aviation courses. Bill has trained hundreds of aviation technicians, in human factors training and ten or more other training courses. Bill has worked hard to improve local aviation safety by helping companies improve their quality assurance programs.
Many of us have had the privilege of being associated with Bill over the years and have a tremendous amount of respect for him. Bill truly had a passion for life and the aviation industry as a whole. Bill has been involved with aviation for a staggering 61 years and has inspired and influenced many of us! Bill you are a most deserving recipient of the Outstanding AME Award.
---
Previous
CAMEA Outstanding AME/NASCO Award Winners – The AME Hall of Fame!
2017 Winner – Mike Fennessy



Mike Fennessy started work at Trans Canada Airlines in Winnipeg in 1967.  He developed an interest in aircraft from being in Air Cadets and obtaining his pilot's licence when he was 17. After graduation, he was hired to a term job at TCA as an aircraft mechanic apprentice. The YWG Heavy Maintenance facility overhauled Vickers Viscount, a 4-engine turbo-prop aircraft. The company at that time was closing the YWG base and setting up their new maintenance base in Dorval, Quebec.
He worked for Canadian Aviation Electronics-Aircraft Division, the company that took over the work in maintaining Air Canada's Viscount Fleet of 51 aircraft. Well experienced in all aspects of this aircraft (overhaul, M.O.C. and spar mod, multiple engine changes, interconnection runs and taxiing authority) Mike wrote the required exams to become a D.O.T Certified Pre-Flight Engineer with CAE.
His recall back to what was now Air Canada took Mike to Toronto. Within the year, he was posted to the Chicago's O'Hare Airport as an outstation mechanic where he worked for 4 ½ years.
On his return to YYZ, Mike set out to obtain the licence credentials in the Air Canada system and to bid on the next permanent opening. He gained lots of experience on numerous aircraft doing Line, A & B-Checks, on 747, L1011, DC8, DC9, B727., lots of snags and lots of good people to work with.
Air Canada announced Winnipeg to be a Heavy Maintenance Base for the B-727. Mike bids successfully to the promotion and returns with his young family to YWG as an Aircraft Inspector.
The introduction of the A320 Airbus was the next big change and opportunity that Mike obtained. He was selected to be on the Nucleus Crew for training and was also sent to Toulouse and Hamburg as the first Inspector to provide some progressive inspections on the assembly line.
Between 1996-2001 Mike accepted the task as Base Auditor in YWG. He also became part of the Core Audit Team with other inspectors and auditors located in YUL. Mike was called upon to participate when the group preformed vendor, fuel and base audits at stations throughout Canada.
During this period, Mike was requested to initiate setting up an internal NDT Department in YWG.
Mike was involved with the Union. He began as a shop steward and served in several positions throughout the years (Secretary Treasurer, Shop Committee, Trustee, Vice President, Recording Secretary and President). He represented the members on several committees and was involved in many issues and discussions to improve working conditions and efficiencies. His interest was always to ensure the betterment of both the members and the company and to work to the agreed to Collective Agreement.
Around 2002 – 2003 there was lots of talk about Quality.  The present system of Quality Control was felt to be inefficient. Quality Assurance was determined to be more productive and more efficient.  Transport Canada made the necessary changes and the Company transitioned the Aircraft Inspector position into the Process Auditor. Mike was selected to be on the Committee to represent the licensed group in Winnipeg during negotiations with the Union. Mike was in the Quality Department as an Aircraft Inspector for 23 years. Through the years, he held the endorsements on the Viscount, B-727, DC-9. A-319, A-320 and A-321.  From this point, Mike became a Quality Assurance Process Auditor, a position he held for the next 10 years. He concluded his working career after 44 years and 10 months of service.
With the bankruptcy of Aveos and dismissal of 400 maintenance and support personnel in YWG he chose not to pursue other employment. He had been working since July 1967- March 2012. With his extensive involvement with the Union he was asked to remain and take over as President, a position that he had formally held during the troubled times of 9/11, CCAA, the merger of AC and CAIL, the end of HPWO – This was to help to stabilize the Local Lodge. It was also to mentor some upcoming fellow members who will be leading and supporting the membership.in the future.
In the community, Mike volunteered for several years as Board Member for the Assiniboia West Community Center doing promotions and the newsletter. During those years, he also coached or managed hockey, baseball and soccer teams enjoying the experience with his sons Chris and Ryan and their friends.
Mike and his wife Judy volunteer with Dreams Take Flight and with the Manitoba Riding for the Disabled Association (MRDA).
Member for the Air Canada Manitoba-Saskatchewan Pionair's looking after membership. He also helps with the AC Maintenance Retiree Breakfast Club.
For over 20 years Mike has been on the Board of Directors for Softball Manitoba and is President of the Winnipeg Men's So-Pitch League.
He is a facility and maintenance volunteer at the John Blumberg Softball Complex. This site will be the host venue for Softball at the 2017 Canada Summer Games where Mike is volunteering as the Materials Management Representative for the venue. This is the 50th Anniversary of the Canada Summer Games
2016: Gary Polinuk – Riverside Aircraft Maintenance Ltd.

"Photos by Olivia Dolinsky Studio, Winnipeg, MB"
Gary has been involved with aircraft for over forty years as he grew up in the family business. He started with his private pilot license in 1978 and then received his commercial pilot license in 1981. Business was expanding and there was a need to have an AME on site, so Gary obtained his AME license in 1983. A Structures license followed in 1993.
Riverside Aircraft Maintenance was formed in February 2000 with Gary as the owner and president. A strong reputation exists due to the hard work and high standards that Gary not only expects, but models himself. In the community, Gary is a member of the Rotary Club of Selkirk, the Selkirk Biz and the Canadian Federation of Independent Business. Gary is very community minded and supports many organizations such as STARS Air Rescue, Selkirk Steelers, Selkirk Junior B, Kids Fishing for a Cure, The Dream Factory, Rotary Lobsterfest, and the Selkirk Curling Club. Gary also supports this symposium each year with prizes and/or monetary donations.
When Gary can get away from the hangar, you can find him in a curling rink, on a beach in the Caribbean or flying up north to the cabin with his wife Michele. Gary plans to keep working in aviation for many years ahead!
2015: Maurice Wills – Canadian Propeller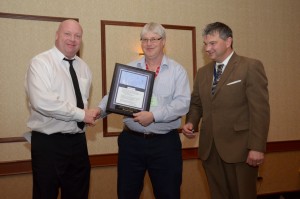 2014: Dennis Turney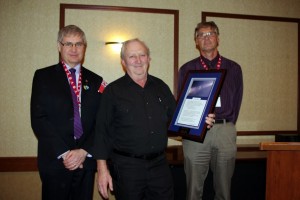 2013: Allan Denesowych
2006: Carrie Awn